Dr. Sheryl Clark
In The News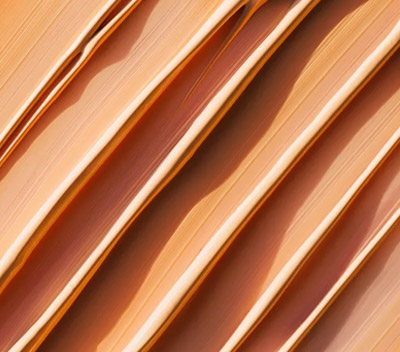 Propylparabens for Skin: The Complete Guide
There are arguably few ingredients more villainized in the beauty industry than parabens.

Read More >>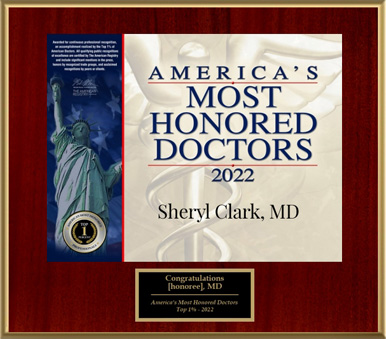 Dr. Sheryl Clark Americas Most Honored Doctors - Top 1% 2022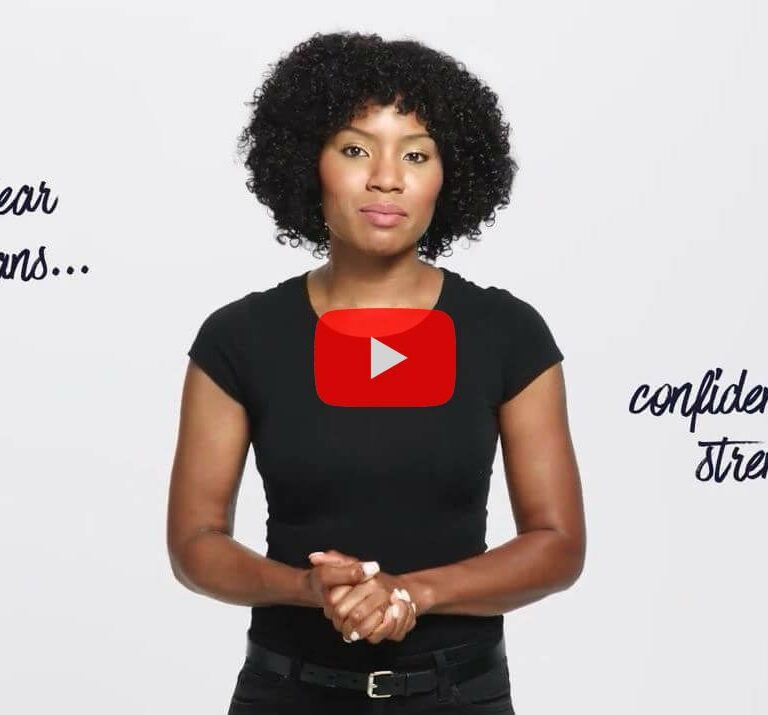 How Much Does Clear Skin Cost? Two Women Share How Much They Paid for Acne Treatments
Two women share their journeys to achieve clear skin by using Accutane, Retin-A, and other products. Find out why they chose the treatment they did, how much they each paid, how long treatment took, and if they thought it was worth it.

Read More >>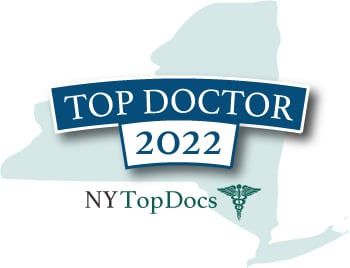 Dr. Clark Chosen by NY Top Docs as one of the Top Dermatologists in New York City.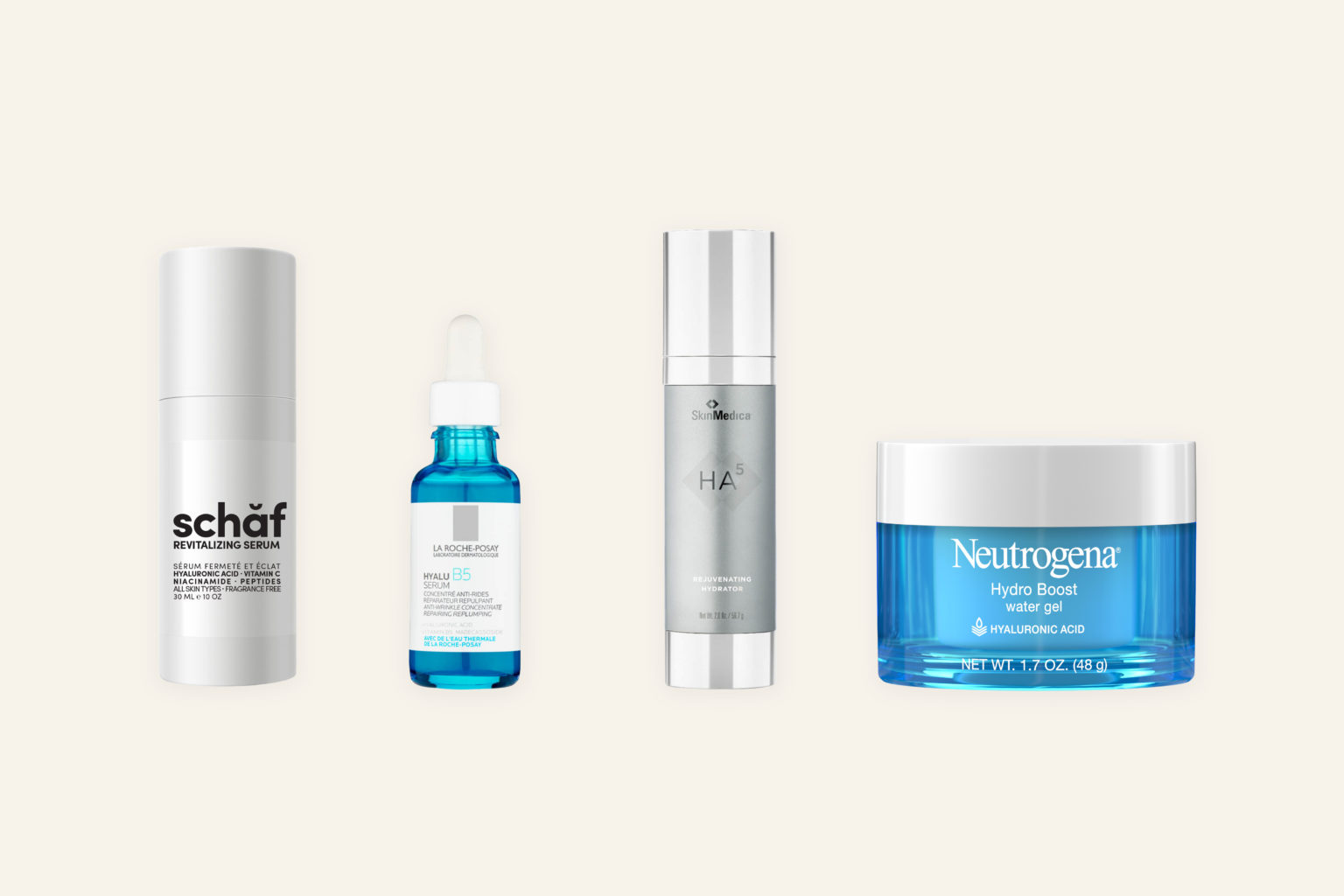 The Best Hyaluronic Acid Serums, Recommended by Dermatologists
Retinol, vitamin C, AHAs, BHAs, hydroquinone, benzoyl peroxide… the list of powerful but potentially irritating skin-care ingredients is long. Hyaluronic acid, on the other hand, is one of the few that works for everyone, regardless of skin type or sensitivity level.

Read More >>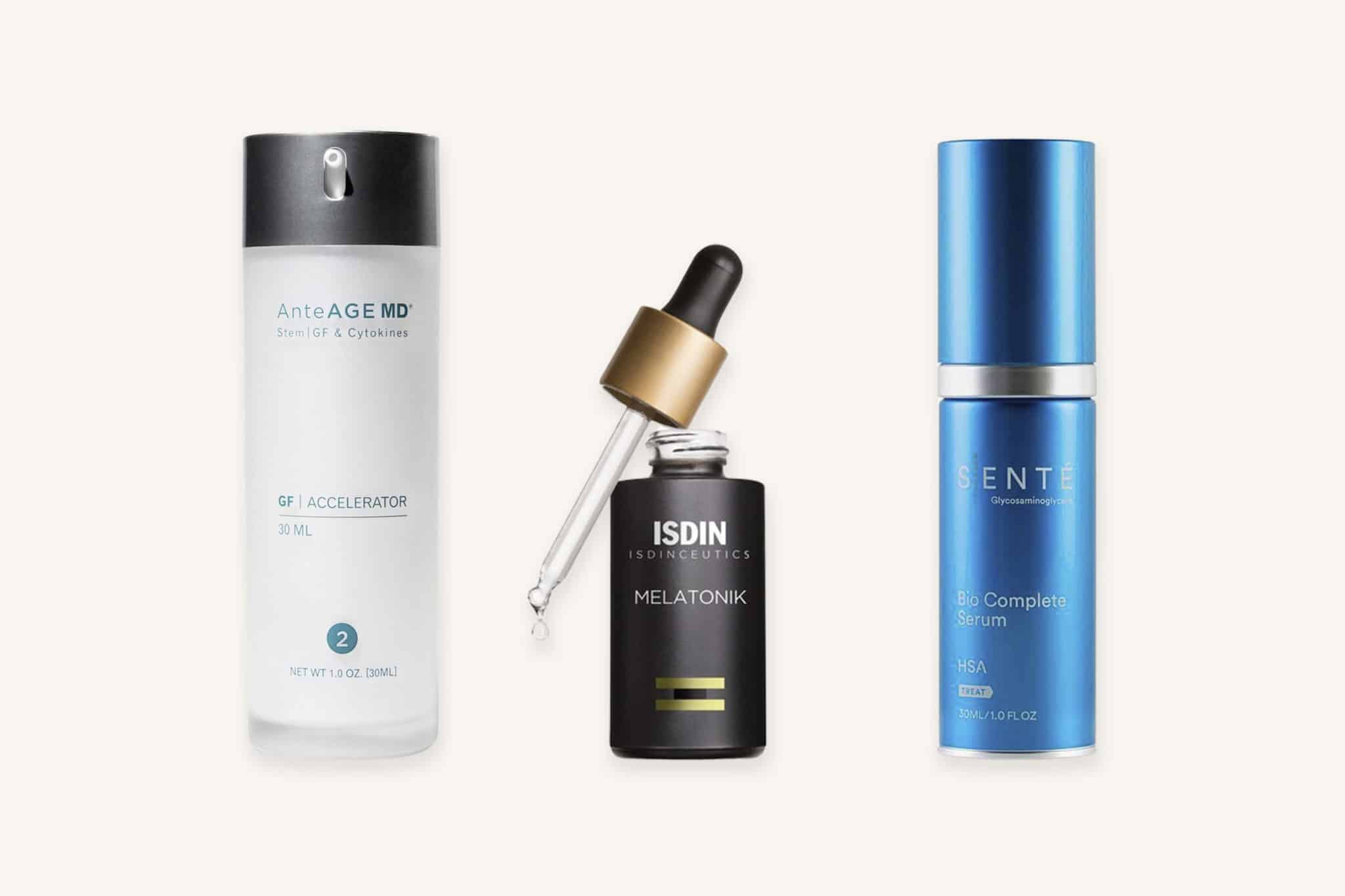 8 Professional-Strength Products That Will Hold You Over Until Your Next Derm Visit
"My favorite professional-strength product is Alastin Nectar. It clears out old, glycosylated collagen—which is [caused by] eating sugars of any type and creates deep wrinkles and furrows—by increasing gelatinase activity, [which] increases collagen and elastin production…"

Read More >>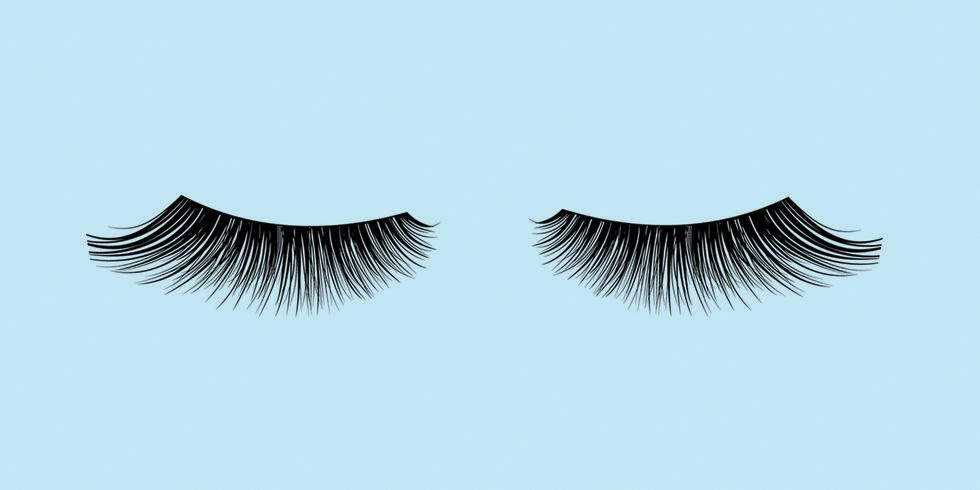 April 2018 Elle Magazine
Dr. Clark consulted for Holly Millea's article in the April 2018 issue of Elle Magazine. What would you do if you ripped out your lashes with an eyelash curler? Does Latisse really work?

Read More >>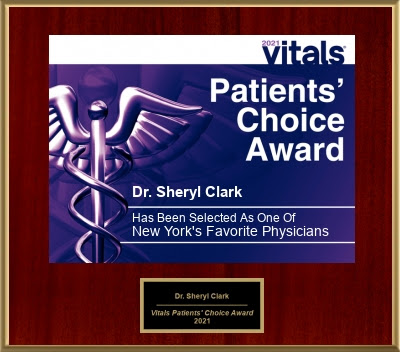 Dr. Clark's patients have selected her for the Patients' Choice Award
Once again, Dr. Clark's patients have selected her for the Patients' Choice Award. Patients' Choice recognition reflects the difference a particular physician has made in the lives of his/her patients. The honor is bestowed to physicians who have received near perfect scores, as voted by patients. More than 200,000 patient reviews and ratings are gathered each month, and the top doctors out of hundreds of thousands around the country are given this coveted award annually.

Specifically, Dr. Clark's patients took the time to compliment her in areas such as: bedside manner, the amount of time spent with them, the courtesy of Dr. Clark's staff, appropriate follow-up, and their overall opinion of her as a physician.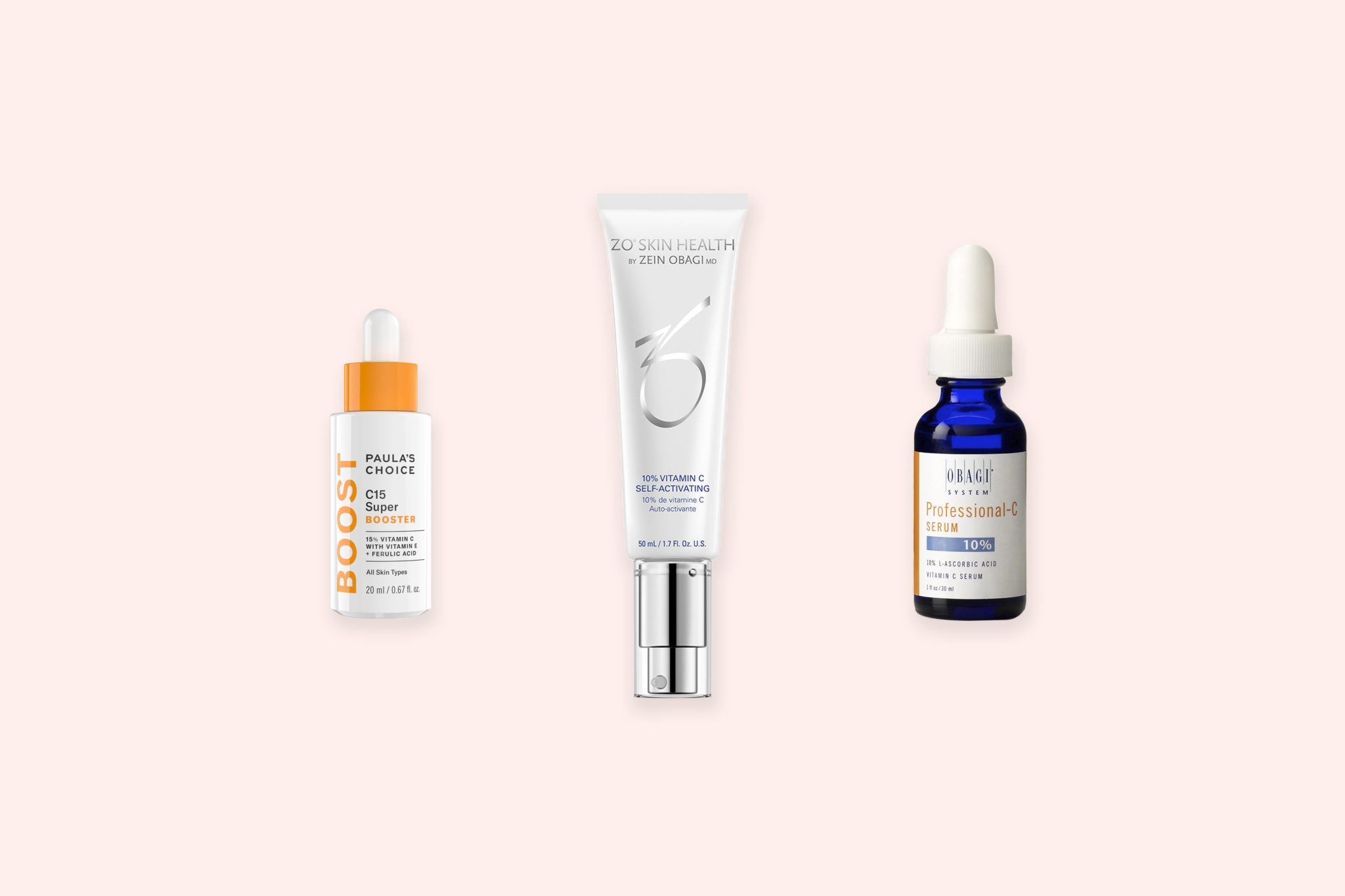 8 Dermatologists Reveal Their Favorite Vitamin C Serum Under $100
Recently, several companies have developed products with [another form of vitamin C called] THD ascorbate, which is not pH-dependent and therefore can be layered under other skin serums, lotions, or creams without loss of efficacy…

Read More >>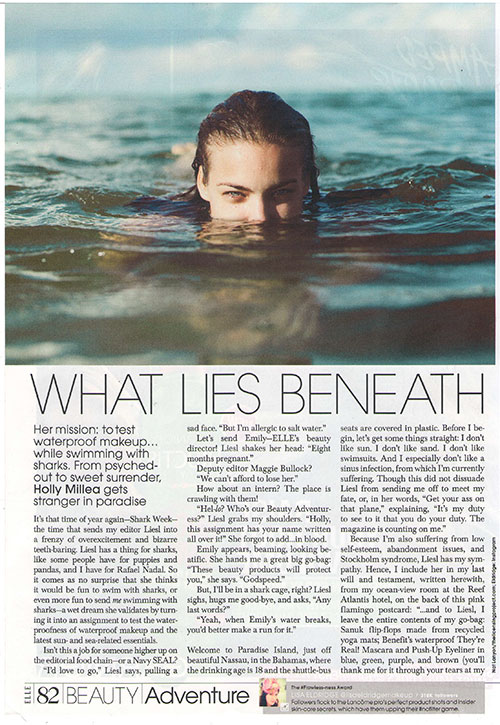 What Lies Beneath
Her mission: to test waterproof makeup… while swimming with sharks. From psyched-out to sweet surrender, Holly Millea gets stranger in paradise.

Read More >>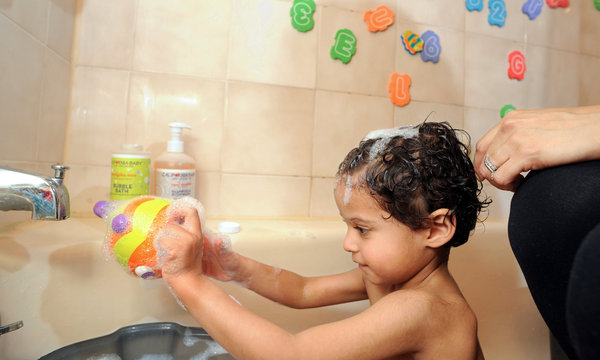 Starting Early, and Young
DR. AMI SHAH NAGARAJAN, 38, a specialist in integrative medicine who lives in Manhattan, estimates that she spends $150 a month on Mustela and California Baby products for her 3-year-old twins. "I spend more on my kids than I do for myself," she said. "It's worth it to me to get something pure for them."

While Dr. Nagarajan said she was mindful of using beauty products with minimal chemicals even before she had children, other mothers have become more conscientious after giving birth. Zoe Schaeffer, 35, who lives in Los Angeles and has a mothering blog, Macaroon Original, said she spends $150 to $200 a month on a variety of natural lines for her three children, 3 months to 4 years old.

Read More >>
Dr. Clark Interviewed on NY1 About CoolSculpting
In August, Dr. Clark was interviewed by Cheryl Wills of NY1, who wanted to know all about the benefits of cryolipolysis as delivered by the CoolSculpting procedure, over liposuction or any other fat reducing procedures. This interview generated so much interest that it was replayed in November and March.

NY1 Aritcle >>

Full Interview >>
7 Annoying Beauty Issues That Only Happen When You Work Out—And How To Fix Them
Working out is a struggle: Waking up at the crack of dawn to pump iron before the day starts, the growing I'm-gonna-lose-my-lunch feeling threatening to cut your sweat session short, the postworkout muscle soreness intense enough to make stairs your newfound archenemy. The last thing you need is a skin-related issue to add to the workout bummer list: Chafing, breakouts, and sweat bumps are just a few.

Prevention Magazine >>
Consumer's World: Spas Can Rub Wrong, Dermatologists Warn - New York Times
…Dr. Ronald Sherman and Dr. Sheryl Clark, dermatologists, offered these suggestions for those considering spa treatments:

* If you have a heart ailment, avoid any treatment that causes sweating and dilation of blood vessels. These include steam baths, saunas and some wrap treatments

Read More >>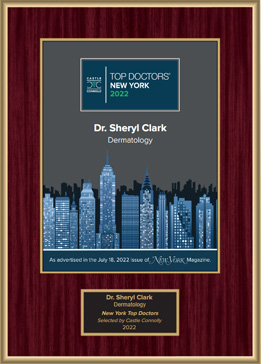 Dr. Sheryl Clark New York Magazine Top Doctor 2022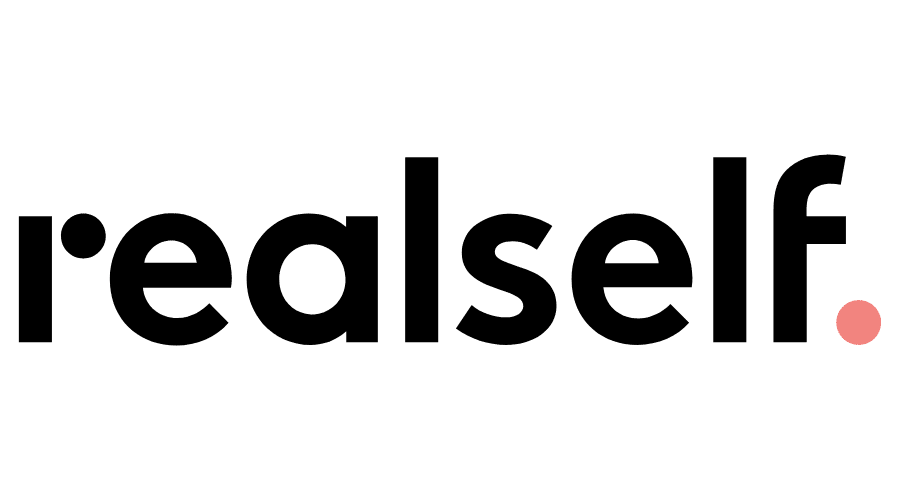 Jeuveau: What You Need to Know
Jeuveau is the newest wrinkle-smoothing injectable toxin to gain FDA approval to temporarily improve the look of moderate to severe frown lines between the eyebrows (the glabellar lines, or "elevens").

Read More >>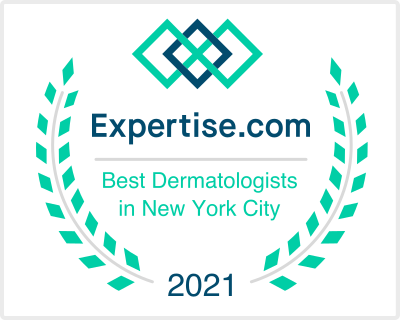 Dr. Clark Chosen by Expertise.com as one of the Best Dermatologists in New York City
Dr. Clark was chosen by Expertise.com as one of the best dermatologists in New York City due to her reputation and expertise in dermatology. Expertise.com researches all market providers for availability, qualifications, reputation, experience and professionalism of its candidates, and sends mystery shoppers before making its final selections.

Read More >>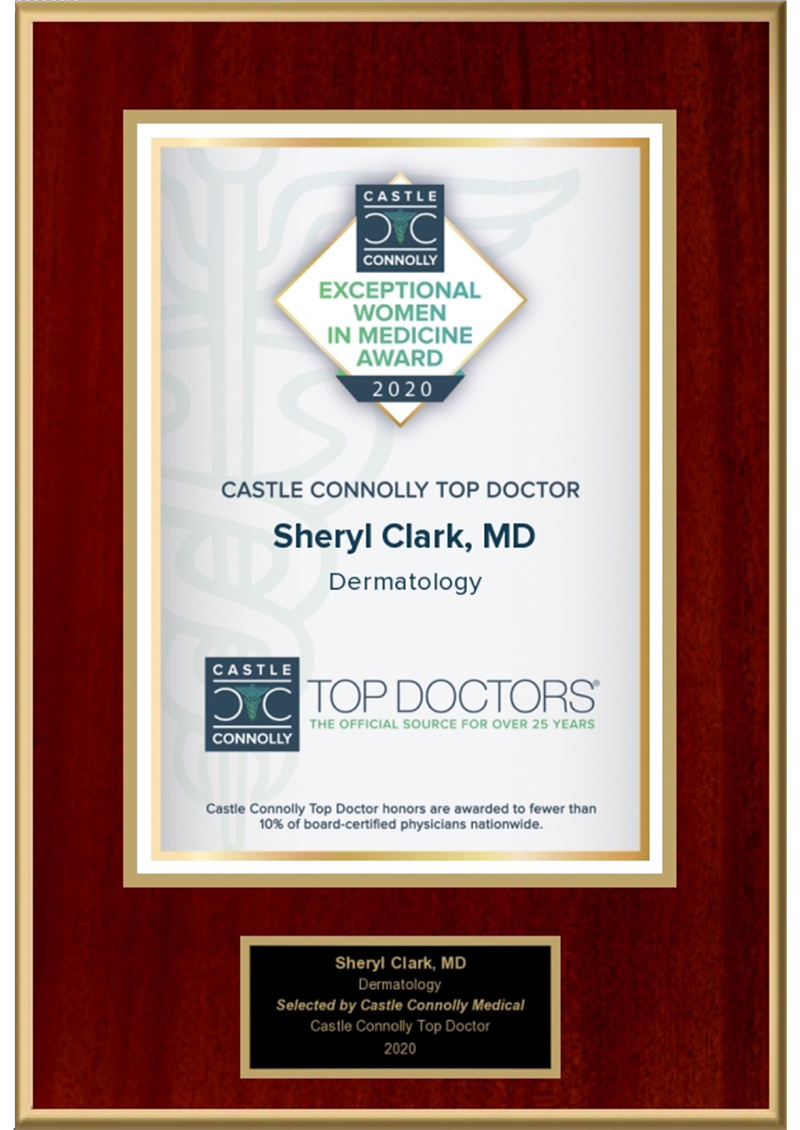 Dr Clark named Exceptional Woman in Medicine
In addition to being named a Top Doctor by her peers, Dr. Clark received the Exceptional Women in Medicine Award 2020 from Castle Connelly.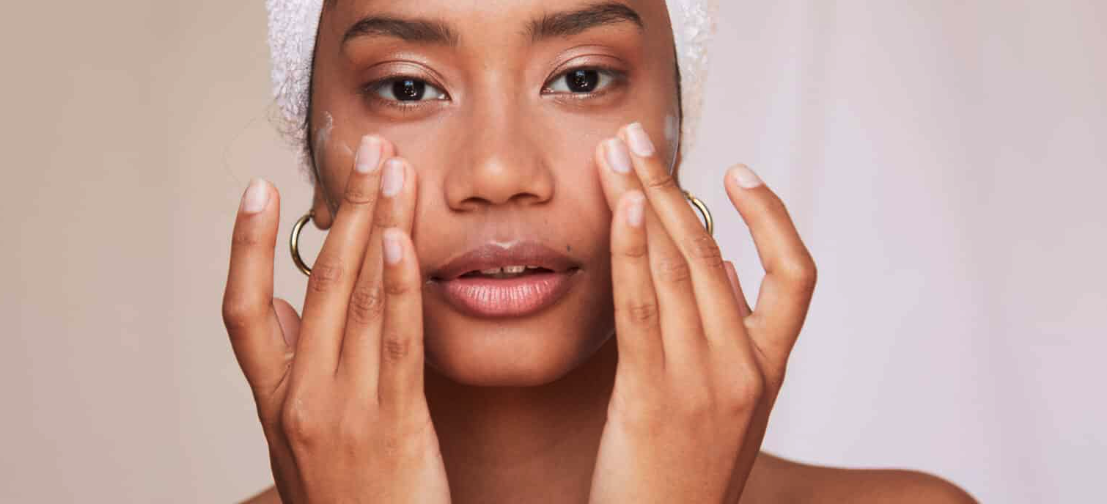 Everything You Need to Know About Aklief, the New, Less Irritating, Prescription-Strength Retinoid Derms Are Buzzing About
In order to understand what sets Aklief apart, however, you need to go a few steps further down this skin-science rabbit hole. There are three types of RARs in the skin—alpha, beta, and gamma—explains New York City board-certified dermatologist Dr. Sheryl Clark.

Read More >>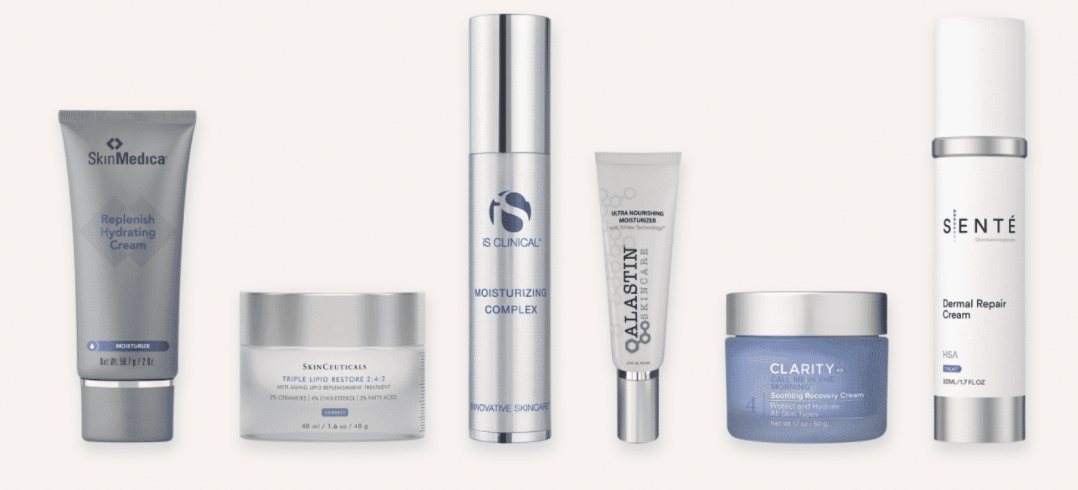 6 Medical-Grade Hydrators With Powerful Anti-Aging Benefits
When it comes to skin care, you have your hydrating ingredients in one corner and your anti-agers in the other. Both are great on their own, but put them together, and you end up with a truly perfect pairing—the peanut butter and jelly of skin care.

Read More >>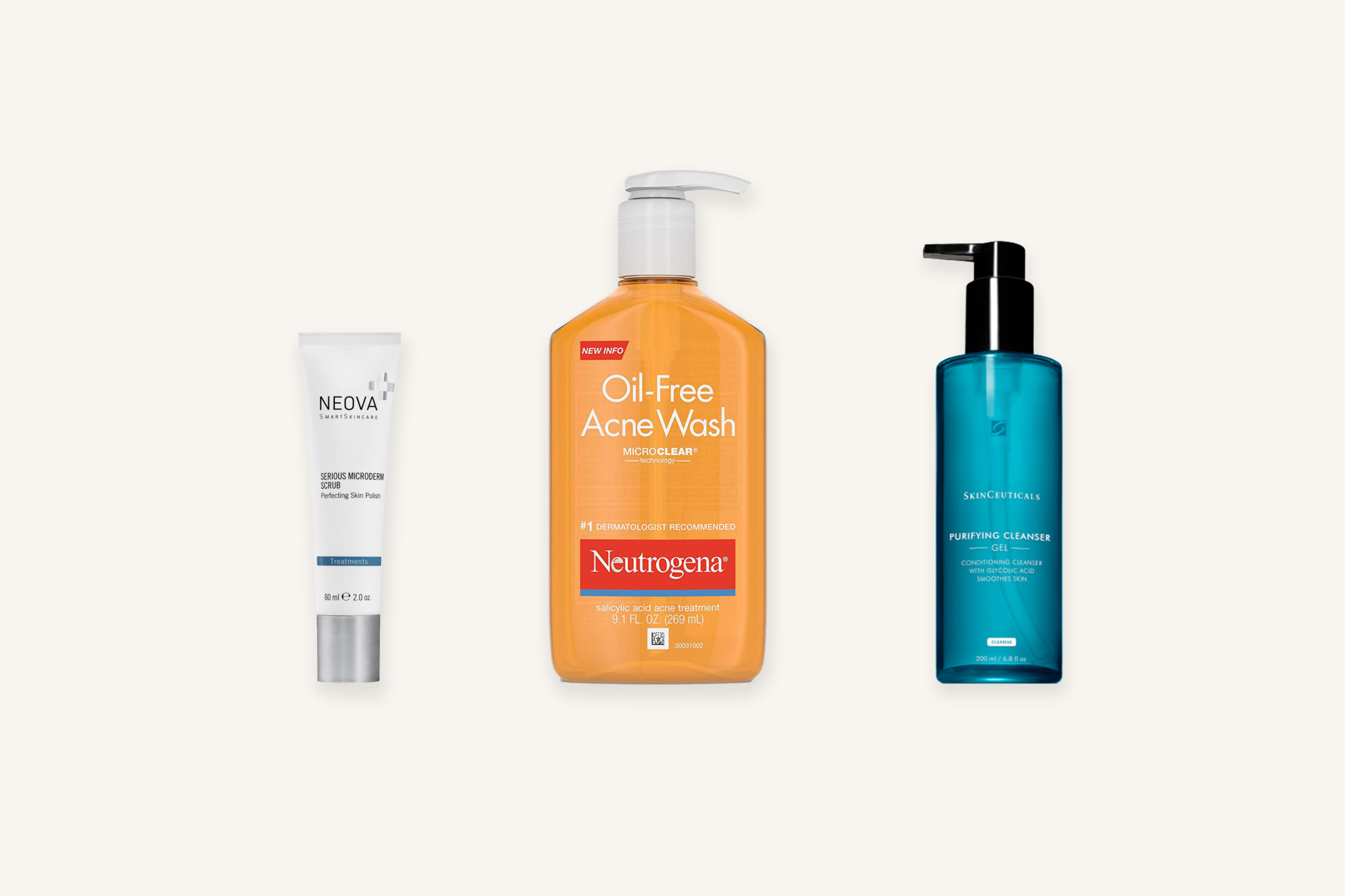 10 Dermatologists Recommend Their Favorite Exfoliator Under $75
"I am not fond of physical abrasives—they clog pores with bits of dead skin, which can lead to whiteheads and irritation and create a mild barrier defect. Glycolic acid and retinoids are the most effective nonmechanical exfoliants. I really like this one because it is not sticky, unlike every other glycolic acid I have tried—glycolic acid is derived from sugar cane, so getting around the sticky texture can be difficult—and it [also contains] vitamins A, C, and E, green tea, and CoQ10." —New York City board-certified dermatologist Dr. Sheryl Clark

Read More >>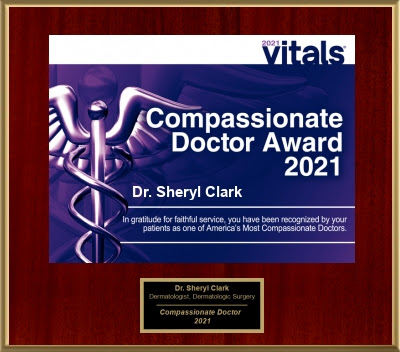 The Compassionate Doctor Recognition has again been granted to Dr. Clark.
Compassionate Doctor certification is granted to physicians who treat their patients with the utmost kindness. The honor is granted by patients based on a physician's overall and bedside manner scores.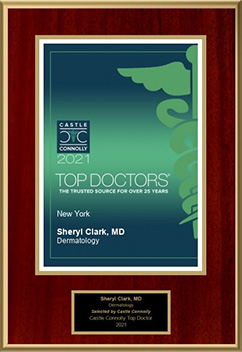 Dr. Clark is named a Castle Connolly Top Doctor for 2021
The first step to becoming a Castle Connolly Top Doctor is through a nomination process. Every year, Castle Connolly surveys tens of thousands of practicing physicians across the US. After a doctor is nominated by his or her peers, their physician-led research team screens each doctor to confirm whether he or she meets Castle Connolly standards. Castle Connolly evaluates professional qualifications, education, hospital and faculty appointments, research leadership, professional reputation and disciplinary history, as well as outcomes data. Peers are asked to consider not only the training and clinical skills of the physicians they nominate, but also interpersonal skills such as listening and communicating effectively, demonstrating empathy, and instilling trust and confidence. Dr. Clark has been named a Top Doctor every year since 1999.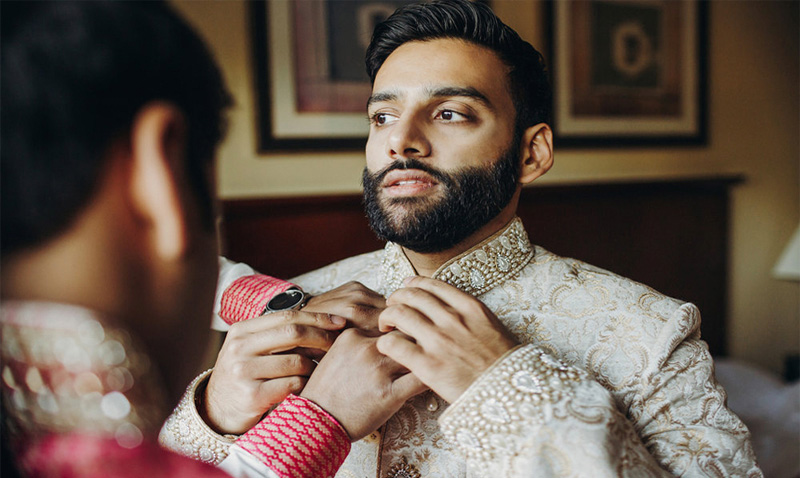 Hair beComes the Groom
In the midst of all the preparations for the big event, what are the groom's concerns? When he pictures his wedding, whether he is striding atop an elephant or sitting under the mandap with his bride and her family, his wish is likely to be as handsome and virile as his bride is beautiful and glowing. Men may not always care about wrinkles or furrows, but what they hate more than anything is a receding hairline and scalp show at the crown.

Read More >>
Cool Device Gives Love Handles The Cold Shoulder
There's new hope for people who are physically fit but have a stubborn bulge around the middle. NY1's Cheryl Wills filed the following report.

Fifty-something-year-old Noemi Castro-Feinstein is like millions of Americans: She's healthy and physically fit but no matter what she does she can still pinch more than an inch.

"With the baby, even though you exercise you have a tiny little reminder that it was stretched out to capacity," says Castro-Feinstein.

Dr. Sheryl Clark, a dermatologist on Manhattan's Upper East Side, uses a device called coolsculpting to get rid of stubborn fat around the middle and the lovehandles. She explains that the applicator is really more like a vacuum with two plates inside.

"And when this is applied the vacuum will take her skin up and it's rather a dramatic effect," says Clark.

Once applied, the cold air rushes in within seconds and the plates clamp down on the bulge, causing fat cells to slowly disintegrate.

"The cold is constantly monitored because you don't want to freeze the skin. That could cause frostbite," notes Clark.

Dr. Clark says there are no risks associated with the procedure. Patients experience just a little tenderness in the treated area because they have to sit still while the applicator sucks the skin for an entire hour. But Dr. Clark says the procedure reduces bulges over time by at least 25 percent and the results are permanent.
About the Dermatologist: Sheryl D. Clark, M.D., F.A.A.D.
With more than 25 years of experience, Dr. Clark is a highly skilled specialist for various dermatological concerns. Whether you want to treat a cosmetic or medical concern, she fully devotes herself to each treatment.
If you require a treatment that is outside of the ones we offer, she still works with you to find the best option for you. She can recommend you to surgeons or other experts who will be able to safely and effectively treat your condition. Her "patients over profits" approach means that her goal is for you to get the treatment you need in order to feel and look better.
Get in Touch
Location & Contact