Sheryl D. Clark, M.D. is one of New York City's
Top-Rated ThermiRF Providers
ThermiRF® is a unique temperature controlled radiofrequency technology designed to safely produce excellent aesthetic outcomes through the application of the science of heat.
ThermiRF Platform
ThermiRF® is a unique temperature controlled radiofrequency technology designed to safely produce excellent aesthetic outcomes through the application of the science of heat. This is a platform technology, which combines precision temperature control with advanced real-time temperature monitoring to enable a myriad of soft tissue applications.
The ThermiRF platform can be used to tighten and smooth skin of the face, neck, chest, arms, abdomen, thighs, or knees. These treatments can be delivered via application of the radiofrequency energy directly to the surface of the skin with no discomfort or downtime, or via a cannula just under the skin with minimal downtime and even more dramatic results. It can also tighten the vaginal walls, relieve incontinence, improve lubrication and sexual response, as well as tighten the external labia.
See which application is best for you!
ThermiRF
ThermiSmooth Treatment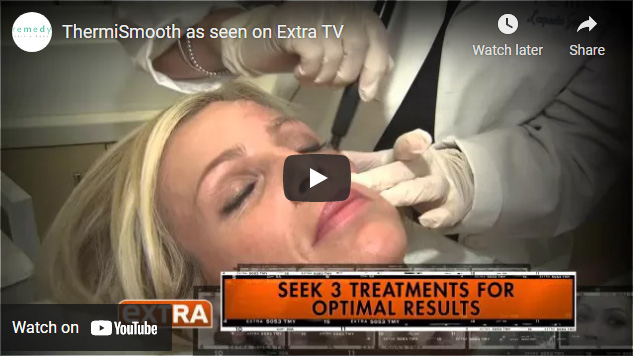 About ThermiSmooth
ThermiSmooth tightens and smoothes the skin via gentle heating using temperature-controlled radiofrequency energy. The temperature of the skin is continually monitored so the skin never gets too hot but is kept warm enough that collagen and elastin production increase via stimulation of the skin's fibroblasts.
What to Expect:
Gentle and not painful
Non-invasive
No downtime
Series of 3-6 applications for best results
ThermiRF
ThermiTight Treatment
About ThermiTight
Have you ever wished that you could tighten the skin of your neck, but would never have a surgical necklift? Would you like to see a tighter, smoother neck, jawline, or abdomen, more lifted breasts, or tighter skin on the arms, knees or thighs, but dont want to undergo the expense, downtime, and pain of plastic surgery, nor risk the assoicated side effects? ThermiTight can address all of these problems, with only a few days of swelling or mild tenderness, and possibly some bruising. A tiny, blunt-tipped cannula is inserted just under the skin and passed gently through the tissues while delievering radiofrequency energy. The temperature is carefully monitored and automatically controlled under the skin, while Dr. Clark monitors the temperature on the surface of the skin as well via a heat-sensitive camera. Temperatures can be adjusted to either tighten the skin or melt fat, or both.
Many patients begin to notice the results within two weeks, but the skin and underlying tissues continue to improve over a six-month period. The procedure is usually performed just once, although patients who continue to age may wish to repeat it one to five years later.
ThermiRF
ThermiVa Treatment
For Women's Intimate Health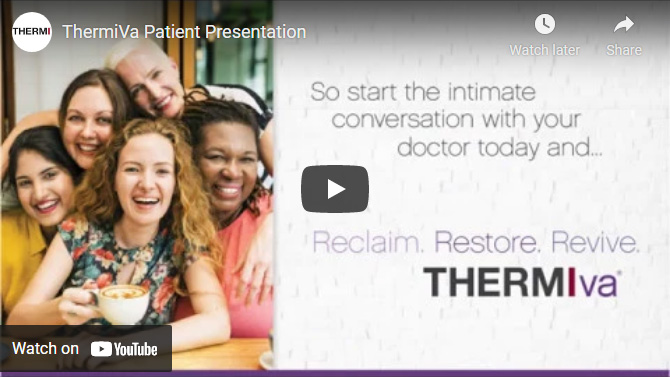 *The three photos above are of a premenopausal woman with two children by vaginal birth and 3-year history of stress incontinence, vaginal laxity, diminished sensation and orgasmic ability, hypertrophy of labia minora, deflation of labia majora. Photos show immediate tightening of inner labia minora and of labia majora. After third treatment, patient is satisfied with the tightening of external labia minora and majora as well as of inner vaginal walls, and the decrease in her urinary accidents, and will continue to improve over the next 6 months.
About ThermiVa
Reclaim. Restore. Revive. Worldwide, women want to reclaim their younger or "pre-baby" bodies.Restore their satisfaction. Revive their relationships. Thermi believes women deserve to reclaim, restore, and revive their vulvovaginal youthfulness and well-being.
Why ThermiVa?
ThermiVa treatments use radiofrequency energy to gently heat internal and/or external tissue to regenerate collagen, elastic fibers, and other connective tissue proteins, without discomfort or downtime. We believe ThermiVa is the safest and most effective treatment modality because:
Its technology is designed to ensure an effective treatment while avoiding significant side effects, and without discomfort, downtime or chance of infection. The delivery of energy is constantly modulated by continuous, real-time monitoring of the temperature of the tissues being treated. To date, no serious side effects have been reported, and approximately 100,000 treatments have been given.
Its applicator tip is unique in that it permits the radiofrequency energy to reach 9 mm in depth, more than any other device in its class, potentially gently heating all layers of the vaginal wall and some fascial layers. It thereby has the potential to improve multiple issues of concern, including vaginal laxity, moistness, sexual response, sensitivity, and urinary incontinence. It is also uniquely designed to be able to be applied to the external genitalia, allowing for the treatment of vulvar laxity, sexual response, or orgasmic disorder when appropriate.
About ThermiVa
Non-invasive
No surgery, no anesthesia, no hormones
Not a laser therefore no wounds that need to heal or might cause infection
Not a laser therefore will not worsen dryness
No downtime
Comfortable, in-office treatments
Three 30- to 40-minute sessions, one month apart
May resume all activities same day/night
Long lasting results
Performed with the ThermiVa hand piece, designed with comfort in mind
More Reviews
From Our Patients
Loving the Results of Vaginal Treatment form This Office
Decided to have vaginal radiofrequency treatments cuz of dryness, some little "accidents" and looseness after menopause and having children. Could not tolerate the pills they wanted me to use and those moisturizers don't work IMHO. Plus I worry about cancer from hormones. Only have had 2 treatments maybe 6 mos ago but even after first hubbie noticed BIG difference which he says is still just as good. Accidents stopped but I think I should go back for no 3 cuz I still feel the urge around running water. Relieved I found something to do that is safer that the medicines or surgery especially since it didn't hurt at all
I did my research in advance and learned that radio frequency is the way to go for safety and best results. (Lasers make tiny holes and some people have gotten worse). I found Dr Clark and everything I wanted to know and why she chose ThermiVa over the other radiofrequency machines.
"surgerynever"
RealSelf, Worth It
It was Amazing ! So thought I would give A try to thermiva , i made an appt and found out I need 3 treatments. Once a month apart. The office made me feel comfortable, everyone was very profesional. The treatment took about 45 mins. They place a thin probe into my vagina and heat it up. It got warm. Did not feel like it was burning which I was afraid of happening. Once she did inside so used the probe on my outer lips to give it a more "youthful" look
"Arislady"
RealSelf, Worth It
About the Dermatologist: Sheryl D. Clark, M.D., F.A.A.D.
With more than 25 years of experience, Dr. Clark is a highly skilled specialist for various dermatological concerns. Whether you want to treat a cosmetic or medical concern, she fully devotes herself to each treatment.
If you require a treatment that is outside of the ones we offer, she still works with you to find the best option for you. She can recommend you to surgeons or other experts who will be able to safely and effectively treat your condition. Her "patients over profits" approach means that her goal is for you to get the treatment you need in order to feel and look better.
Location & Contact
Located in the Upper East Side, Manhattan