Dr. Sheryl D. Clark, M.D. was one of New York City's
First Kybella Injectors
Kybella is an effective, non-surgical way to help you improve the appearance and profile of a double chin. As one of NYC's first Kybella injectors, Dr. Clark has helped a range of patients treat stubborn double chins and boost confidence in their appearance. At MD Skin Science, we are proud to provide this double chin treatment to help our patients reach their goals.
What Is Kybella?
Kybella is an injectable medicine that improves the appearance and profile of moderate to severe fat below the chin (submental fat). In other words, it can help patients improve their double chin. Patients may have fullness in this area due to a range of causes, including genetics or changes in weight. The treatment works by injecting Kybella under the chin over several treatment sessions. With each injection, you will see a further reduction of your double chin. A typical treatment plan consists of 2-4 treatments about five to six weeks apart.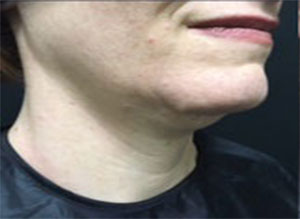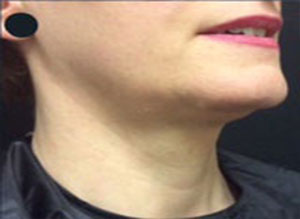 What are the active ingredients in KYBELLA?
The active ingredient of KYBELLA is deoxycholic acid. This is a naturally occurring substance secreted by the gallbladder that allows the body to digest fat.
Is Kybella Right for Me?
Since Kybella is non-surgical, it is open to a wide range of patients. If you have a double chin or stubborn fat below the jaw, you could benefit from this treatment. However, you will need to wait for Kybella if you have infection at the treatment area. Additionally, if you are pregnant, you will need to wait for your treatment session.
To learn more about Kybella and see if it is right for you, schedule your consultation with Dr. Clark today. During your consultation, Dr. Clark will go over all the factors that influence your candidacy for Kybella. These include your medical history and other information to ensure that Kybella is right for you.
What Is the Treatment Like?
Kybella is carefully injected in measured amounts into the fat under your chin. The amount of injection required will depend on your unique situation and your personalized treatment plan. We take precautions to ensure that the entire process is comfortable for you, with most patients reporting no more than a small stinging sensation.
Dr. Clark will discuss with you whether you would like to have the area numbed with lidocaine before the injections. The injections themselves are barely felt by the typical patient. Still, topicalor injectable lidocaine can minimize or completely prevent any discomfort that otherwise might occur as KYBELLA is working on the fat cells for several minutes after the injection.
Each Kybella treatment session is quick and convenient, typically lasting under half an hour. After Dr. Clark performs the injection, you can return to your daily routine right away. However, some patients prefer to take one or more days off to allow any swelling or redness to subside.
When Will I See Results?
Kybella works gradually but can provide significant results in the long run. Patients typically start seeing noticeable results within four to six weeks of their first injection. Around this time, Kybella should have begun successfully removing fat cells from the treatment area.
Most patients will need 2-4 treatments to reach their final goals. It is important to completely follow through with your treatment plan to achieve successful treatment of your double chin.
What Are the Possible Side Effects of Kybella?
Dr. Clark takes every precaution to minimize any risks associated with Kybella. Since it is a non-surgical treatment, it is far safer than surgical alternatives. After treatment though, you may experience minor side effects, including:
Swelling around the immediate injection (lasts 2-14 days)
Mild bruising
Initial discomfort or stinging at the injection site
Redness
Areas of firmness, which eventually subside
Why Choose Dr. Clark for Kybella?
At MD Skin Science, Dr. Clark has committed herself to delivering only treatments that have been proven to be safe and effective. She focuses on administering those treatments ethically according to the highest medical and surgical standards. In other words, Dr. Clark wants to help you enhance your beauty and keep you safe while doing so.
Dr. Clark has developed a unique protocol for Kybella treatment based on research findings and her extensive experience. This protocol is not available at any other practice. Using it allows her to:
Minimize any swelling that occurs
Minimizing or even eliminating treatment discomfort
Reduction of any risks or side effects
Dr. Clark has more than 30 years of experience as a dermatologist and maintains a keen interest in the anatomy of the face and neck areas. When combined, these aspects prove essential to a successful outcome with Kybella.
Schedule Your Consultation
If you are ready to get rid of a stubborn double chin, contact us today to schedule your consultation. Dr. Clark will work closely with you to understand your goals and build a treatment plan that helps you reach them. We look forward to seeing you soon so you can take the first step toward saying "goodbye" to your double chin forever!
Our Patients
Belotero Before & After Photos
About the Dermatologist: Sheryl D. Clark, M.D., F.A.A.D.
With more than 25 years of experience, Dr. Clark is a highly skilled specialist for various dermatological concerns. Whether you want to treat a cosmetic or medical concern, she fully devotes herself to each treatment.
If you require a treatment that is outside of the ones we offer, she still works with you to find the best option for you. She can recommend you to surgeons or other experts who will be able to safely and effectively treat your condition. Her "patients over profits" approach means that her goal is for you to get the treatment you need in order to feel and look better.
Location & Contact
Located in the Upper East Side, Manhattan